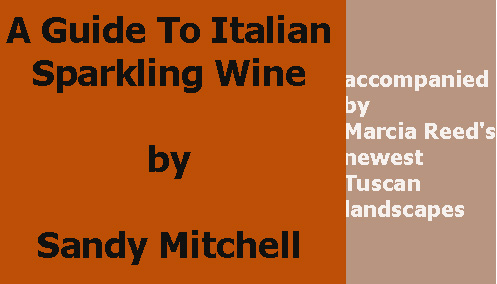 _____________________________________________________
Italy produces more sparkling wine, made from more kinds of grapes, than any other country in the world. What better way to explore this country's graceful, rolling fields, framed by perpetually snow-capped peaks, her intimate, hillside villages, and her glistening lakes than with a refreshing glass of Prosecco, Asti, or Moscato?
_____________________________________________________
Most of Italy's sparkling wines are produced in northern Italy, in the cool, northern foothills of the Alps. Visitors to this scenic region are greeted by friendly, creative, countrymen, and are rewarded with lovely vistas, hearty food, and fresh, crisp, effervescent glasses of spumante.
A Little Italian Wine History
Italians have been making sparkling wine since Roman times. Italy's first settlers, the Etruscans, trained wild grapevines to grow up trees, the Greeks brought grape seeds across the Adriatic to Italy from their homeland, and the Romans perfected the craft of Italian winemaking – and drinking. Today, seemingly, every spare plot of land in Italy is planted with grape vines.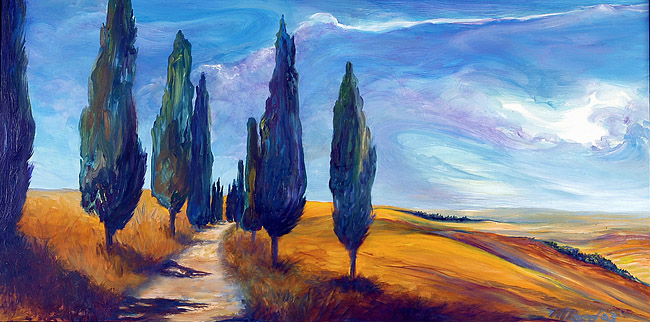 Italy's history is as rocky as the limestone cliffs that produce such delightful wine. Italy did not even become a unified country until the mid 19 th century. For years after that, Italy's feudal-style agricultural system of sharecroppers and large landowners hampered large-scale wine production there.
The renaissance in Italian winemaking began in the early 1960s when the Italian government enacted the Denominazione di Origine Controllata (DOC) laws, modeled after the well-established, French wine laws. This legislation defined what type of wine could be produced in each geographic area, what type of grape must be used for each wine and in what percentages, how long the wine must be aged and in what material, and other similar restrictions. In conjunction with these laws, the Italian government financed massive grape vine plantings, usually in the most fertile areas, not always the best place for grape vines. All this enthusiasm produced a great quantity of wine, but not necessarily a great quality. This era gave birth to the ubiquitous wicker-bottled Chiantis and soda pop sweet Astis you might remember from your youth.
The 1980s and 1990s ushered in a new age of Italian winemaking. Many sons and daughters of traditional wine farmers returned home to their small towns with agricultural degrees and new ideas. They quickly put this knowledge to work in the family estates. Gone were overproduction, haphazard blending, and bland, chestnut aging casks. Grapes were picked early and allowed to ripen slowly in oaken barrels. Also about this time, the Italian government set up large cooperatives that now act as a kind of grape clearing house, thus helping to standardize the quality of Italian wine.
Spumante
Sparkling wine (spumante, in Italian) is made throughout all of Italy. Most of the DOC designations allow for a sparkling wine, and the Italian people have a marked affection for "bubbles." Different regions each bring their own special signature to sparkling wine. It is this diversity, in part, that gives the excitement to Italian "sparklers."
Those Crazy Wine Laws
The Italian DOC laws divide Italy into wine-growing "zones." The goal of these laws was to regulate the quality of wine as well as to help create a market for specific, identifiable, Italian wine "zones." Before the DOC laws, most of Italian wine was simply labeled vino da tavola, or table wine. Under the DOC laws, Italian wine is divided into four categories:
VdT (vino da tavola) – wine from any grape grown in any area of Italy
IGT (Indicazione Geografica Tipica) – specifies a location where the grapes used in making a specific wine are grown, usually a very broad area
DOC (Denominazione di Origine Controllata) – specifies a more narrow location where grapes may be grown. Also controls production methods, blending, grapes used in a wine, and aging.
DOCG (Denominazione di Origine Controllata e Garantita) – the most specific of the wine designations. May be as narrow as a single vineyard. Although this designation, and to a lesser extent the DOC, puts restrictions on a wine, it also gives a wine a "pedigree" of sorts.
Generally, but certainly not always, the more restrictive the classification, the better the wine.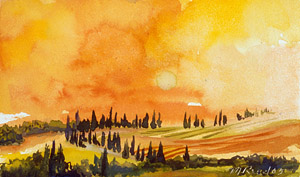 Making Sparkling Wine
All this is very technical, but how does it affect sparkling wine? Italy's sparkling wines are produced using two, distinct methods:
The Classic Method or the Methode Champagnoise
This method makes, by most accounts, the best sparkling wine. Begun and perfected in the late 18 th century by that venerable, French monk, Dom Perignon, wines produced using the classic method go through the second fermentation in the bottle. By this method a dosage, a mixture of yeast and grape juice, is added to the bottle. The bottles are capped, stored at an angle, and turned daily to encourage the lees to rise to the top. After a period of time, the bottles are uncapped quickly to release the yeast matter, then immediately corked. The resulting wine is complex, velvety, and has many, many, tiny bubbles.
By this method, the second fermentation is done in a tank instead of in the bottles, and the wine is bottled young. This method is particularly suited to crisp, low alcohol, sparkling wines, such as Asti and Moscato d'Asti. Generally, wines produced using this method are less complex and have less staying power.

Italy's Sparkling Wine Regions
Sparkling wines are produced throughout Italy, but the best, and the most popular, come from the cooler, northern regions of Piedmont, Veneto, Lombardy, and Trentino.
Piedmont
In the northwest of Italy, Piedmont is the land of hillsides, antipasti, and wine – particularly sparkling wine. Piedmont, literally the foot of the mountain, is surrounded by mountains on three sides. Because of its remote location, Piedmont's culture, cuisine, and personality are slightly different from those of Italy's other regions. Some say the Piedmontese are slightly remote, but they warm up to visitors who take joy in their wine, their scenery, and their delicious food.
Asti
Asti is a place name, a region that encompasses the towns of Asti, Acqui, and Alba, and is one of the DOC zones mentioned above. It is also the name of one of several sparkling wine producing areas of Piedmont. Located in northwestern Italy, Asti is a lovely spot. Gentle rolling fields, reminiscent of those yellow plains of northern California, shimmering lakes, and the snowy foothills of the Alps reward travelers. The rugged, limestone soil here is ideal for growing grapes. (Grapes don't like to be too comfortable.) Asti produces the eponymous sparkler as well as Moscato d'Asti and the red sparkler, Brachetto.
"The Asti you buy in the U.S. is a pale comparison to what the Italians keep for themselves," explains Dr. Stephen Reiss, a certified wine educator and author of "Juice Jargon: How to Talk about Wine." No longer dubbed "spumante" because of bad associations with the cloyingly sweet, mass-produced wine of the 1970s, Asti is a light, semi-sweet, refreshing, somewhat peachy wine crafted from 100 percent Moscato (Muscat) grapes. Asti is an ideal accompaniment to locally made Gorgonzola cheese or as an apperitivo (before dinner drink).
This area of Piedmont is famous for its cuisine, and in particular, that culinary treat, white truffles. These delicacies are harvested between October and December, and in season, local restaurants add them to everything from pastas to soups, meat dishes, and even eggs. White truffles go nicely with a delicate, peachy glass of Asti and are, quite simply, delicious.
Asti has a high acidity that helps to balance its sweetness. It is best consumed when it is about two or three years old. Since Asti doesn't carry a vintage date, it is sometimes a challenge to determine its age. Make sure that you buy Asti from a wine store that turns over its inventory frequently. Serve Asti well chilled in Champagne flutes.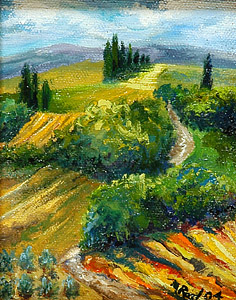 Tastings
Fontanafredda – produced in a historic 16 th century royal hunting lodge and palace, this delicate wine enchants. Around $20.
Martini and Rossi – forget the ubiquitous advertisements of the 1980s, this well-established winemaker crafts excellent and affordable Asti. About $15.
Moscato d'Asti
"Moscato d'Asti is one of the world's greatest kept secrets," says Dr. Reiss. This outstanding "sparkler," which, like Asti is made from Moscato grapes, is technically a fizzante, meaning a fizzy or lightly sparkling wine. As such, Moscato d'Asti has fewer bubbles than its Asti cousin. Moscato d'Asti is light, crisp, and slightly lower in alcohol than Asti, averaging about five to seven percent. This wine is also at its best when consumed young, and, fortunately for wine buyers, Moscato d'Asti carries a vintage date. This wine goes well with the traditional, almond-flavored, Italian after-dinner cookie, Biscotti and is refreshing with a crisp green salad or as an apperitivo on a hot, summer's day. This delicious wine is easily recognized by its long, slender bottle, and is, generally, served in regular stemware, rather than champagne flutes. It is a Piedmont tradition to drink a glass of Moscato d'Asti on Christmas Day.
Tastings
Marenco Scrapona Moscato d'Asti 2003 – a lovely Moscato with hints of melon, tangerine, and grapefruit, and just a touch of honey. Try with a summer dessert, biscotti, or a frothy cup of cappuccino. Around $15.
Cascinetta Vietti Moscato d'Asti 2003 – a light-bodied fizzante with hints of tropical fruit and summer herbs. Ideal with ice cream or a summer fruit salad. Around $15.
Red Asti
Less well known than her sparkling, white cousins, Brachetto is a ruby-red sparkling wine made from grapes of the same name. Produced in the area around Acqui in Piedmont, this wine is surprising and fruity with subtle hints of strawberry. It is excellent when paired with fruit or the rich, native Piedmont sausages. Or, take the advice of a wine expert and pair it with pizza. "Brachetto is a great pizza wine," offers Dr. Reiss.
Tastings
Banfi Rosa Regale - A good, easily obtainable and affordable example of Brachetto. This sweet, lightly sparkling treat is perfect before or after dinner, or as an accompaniment to a fruit salad or chocolate dessert. Under $20.
When You Visit Piedmont
Asti, and the charming town of Alba, is a wonderful place to linger for a few days. Known for its fine restaurants and rugged landscape, Alba is within an easy driving distance from many of the best wine estates in Piedmont. Wineries in this area are, generally, small and family-run. Unlike most Californian wineries, European wineries almost always require you to make an appointment before you visit. Many wine producers, such as Banfi and Fontanafredda, now have websites detailing their wines and making it easy to contact them to set up a visit.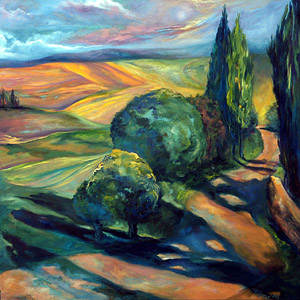 Asti and Alba are about a forty-minute drive from Milan. Accommodations are plentiful here, from small, friendly bed and breakfasts to larger, deluxe hotels. Renting a car is indispensable to touring the countryside here.
This region is home to some of the monuments to northern Italian cuisine. Among them is Guido, in Costiglione d'Asti. Arguably the best restaurant in Piedmont, Guido is known for its porcini mushroom soup, lamb ravioli, and use of locally made cheeses.
Veneto
Veneto, the region that joins the Alps to the Adriatic Sea, includes the city of Venice and the lush, picturesque countryside surrounding it. Italy's third largest wine producer, Veneto is home to Prosecco, a town, a grape, and a delightfully dry "sparkler."
Prosecco
Prosecco was made for summer. This light, crisp, refreshing, sparkling wine from the northeastern Italian region of Veneto has slight hints of melon and pear and even subtle overtones of almonds. Prosecco is a grape, and the best examples of this wine are 100 percent Prosecco. Historically, Prosecco is a semi-sweet wine, but much of this "sparkler" made today is crisp and dry. For a dry Prosecco, look for the word brut on the label.
Prosecco is made in the Charmat method (the second fermentation is performed in a vat), thus preserving its freshness. Prosecco is another wine that is at its best when young. Make sure to sample a Bellini, that cocktail made famous in the 1930s by the venerable, Venetian, watering hole, Harry's Bar. This concoction, popular with tourists and locals alike, is a combination of Prosecco and fresh, white peach juice, served in a Champagne flute.
Tastings
Prosecco di Valdobbiadene (DOC) – a straw-colored, melon hinted wine made of 100 percent Prosecco grapes. Fresh, fruity, and enjoyable! Around $20.
Sergio sparkling Extra Dry – Made by Sergio Mionetto, this somewhat dryer Prosecco is made with 90 percent prosecco grapes. It has pronounced acidity and a full finish. It goes well with seafood and cream sauces. This wine comes in a beautiful, etched bottle. Around $25.
When You Visit Veneto
The city of Venice is worthy of a week's stay. It's charming canals, elaborate history, and striking architecture are entrancing. Get out of town, however, and explore the alluvial plains in the wine country northeast of the city. The rich soil here has supported wine growers since Roman times. Castles, churches, and stone monasteries dot the landscape. You can stay in an authentic Italian villa or enjoy the local hospitality in a bed and breakfast inn. A car rental makes exploring this area much easier. Most of the top wine estates are family run and it's considered polite to make an appointment in advance for a visit. Many wine growers have websites to make this process simpler.
Lombardy
Located in the rolling hills of north central Italy, the province of Lombardy is Italy's most populous region. Centered around Milan and dotted by lakes, Lombardy includes two major sparkling wine-producing regions: Franciacorta and Oltrepo Pavese.
Franciacorta
Franciacorta is the jewel of Italian sparkling wine. The only Italian DOCG designation to make exclusively sparkling wine, Franciacorta is crafted in the Methode Champagnoise with Chardonnay, Pinot Bianco, and Pinot Nero (in French, Pinot Noir) grapes. Franciacorta is just northwest of the city of Brescia, in Italian's Lombardy lake district. Conditions here are ideal for grape growing with its stony, well-drained soil and cool breezes from nearby Lake Iseo.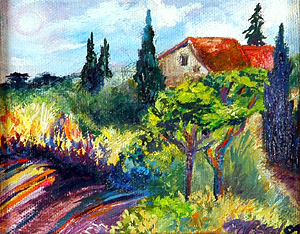 Franciacorta is a dry, complex, sparkling wine. This straw-colored wine has a crisp bouquet with pronounced hints of almonds, vanilla, and ripe yellow fruits. By law, non-vintage Franciacorta must be aged in the bottle for at least eighteen months. Vintage Franciacorta must be aged for thirty months. This is an unusually strict requirement and speaks to the seriousness of the sparkling wine producers here. Franciacorta can also be made as a rose wine, which takes on a light salmon color and has a nose of raspberry and strawberry fruit.
Only in the last forty years has Franciacorta emerged as a sparkling wine leader. In their comprehensive wine tome, Vino Italiano, Joseph Bastianich and David Lynch praise these Italian "sparklers," noting that those "from Franciacorta's Lombardy region can stand toe-to-toe with Champagne." Two of the largest, most well regarded, Italian sparkling wine houses are located here: Ca' del Bosco and Bellavista.
Franciacorta is excellent when paired with baked fish, light risottos, seafood, sushi, and white meats. The rose brut goes well with locally made sausages, Parmesan cheese, tomato-based foods, and porcini mushrooms.
Tastings
Ca' del Bosco – Owned by Mauizio Zanella, the area's most well respected wine grower and father of the new Franciacorta wine explosion, Ca' del Bosco produces excellent sparkling wine. Try the basic Brut (around $50) or the Cuvee Annamaria Clementi Vintage Brut (around $90).
Bellavista – This lovely estate, home of the Michelin three-star restaurant, Gualtiero Marchesi, is, with Ca' del Bosco, one of the area's two quality leaders. Their products range from a basic, Cuvee Brut NV (around $30) to the premium Riserva Vittorio Moretti (around $100).
Oltrepo Pavese
Pavia is a town and a province in Southwestern Lombardy, just south of Milan. The portion south of the Po River, Oltrepo Pavese (literally, in Italian, Pavia across the Po) produces some excellent sparkling wine. Less common than the wines of Prosecco and Asti, Oltrepo Pavese crafts two interesting fizzante wines: Sangue di Guida (literally, "Judas' blood") and Buttafuoco (literally "fire thrower").
Sangue di Guida and Buttafuoco are made using the classic, methode champagnoise. A variety of grapes are used in the wines of Oltrepo Pavese, including Moscato, Pinot Nero (Pinot Noir), Pinot Bianco, Chardonnay, and Pinot Grigio. Sparkling wines here are both ruby red and a pale straw-color. Wines from this region are easy drinking wines and, usually, very affordable.
Tastings
Moscato Oltrepo Pavese DOC Fior D'Arancio – a non-vintage, pale yellow Moscato sparkler with profound melon overtones and a slight spiciness. A nice poolside wine or as an accompaniment to an evening under the stars.
Ca Montebello Lugi Scarani Oltrepo Pavese Bonarda 2004 – a light ruby-colored sparkler with a rich bouquet, full red berry fruit, and a hint of leather. Ideal with summer favorites like grilled meats, cold cuts, and pasta salads. Refreshing and fun.
When You Visit Lombardy
Lombardy, home of the fashion and cultural capital, Milan, is also home to the beautiful Lakes Como and Garda, gentle, rolling hills, and terraced fields of grape vines. The wine center, Franciacorta is located in the center of Lombardy. Combine a trip to Franciacorta with a stay at Lake Como's, historic Villa d'Este hotel for a memorable vacation. The food is lighter here, with specialties including trout from the local, Lake Garda. One of the best restaurants here, Gualtiero Marchesi, is located in the Bellavista wine estate.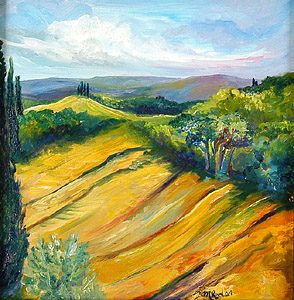 Trentino
Trentino is the most northern wine region in Italy. Nestled against the Alps, just south of Austria, Trentino's vineyards carpet alpine valleys as high as 3600 feet in elevation. The rocky cliff faces and sweeping fields are breathtakingly beautiful and provide a fertile landscape for wine grapes.
Trento
Sparkling wines were pioneered in this region in the early 20 th century by Giulio Ferrari, and his Ferrari winery is one of Trentino's, as well as Italy's, top sparkling wine houses. Most of the sparkling wines made here are crafted from chardonnay grapes that lend a creamy texture and green apple and vanilla tones to the wine.
Tastings
The sparkling wines of the Trentino region are all about Ferrari, one of Italy's leading sparkling wine houses. Its wines, from the non-vintage Brut (about $20) to the top-of-the-line vintage Guilio Ferrari Riserva Brut (about $70) are an excellent value.
Italian "sparklers" were made for summer. If you are lucky enough to be going to Italy, make sure you explore the Prosecco wine route and the classic wineries of Asti. If you are spending the long, hot summer at home, include a refreshing glass of Prosecco, Asti, or Franciacorta in your plans. From crisp, light, fresh aperitifs to sweet, desert sparklers, Italian spumantes are sure to brighten your plans.
___________________________________________________________
Bibliography
Vino Italiano: The Regional Wines of Italy
Joseph Bastianich and David Lynch,
Clarkson Potter Publishers, 2002
The Wine Bible
Karen McNeil
Workman Publishing Co, 2001
Italian Wine for Dummies
Mary Ewing-Mulligan and Ed McCarthy
Hungry Minds, Inc. 2001
~~~
Sandy Mitchell is a Cleveland-based freelance writer. Her articles have appeared in national publications and websites. She is spending the summer in her garden, dreaming of Italy, with her two cats and a perpetually full glass of Prosecco.
~~~
Marcia Reed is a Massachusetts based painter of international acclaim. Her expressionistic landscape paintings have been shown in numerous galleries, museums and private corporations. For more information and to view other works by her go to her website: www.marciareedpainting.com.