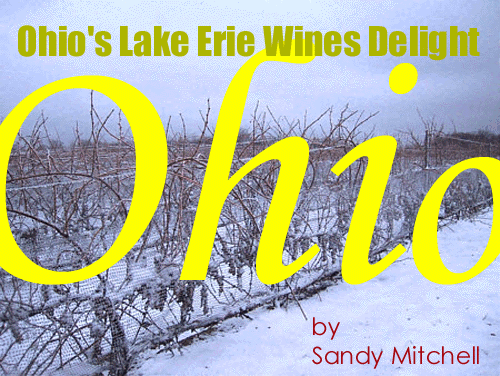 _____________________________________________________________________
Crisp and complex, light and flavorful, Ohio's Lake Erie wines captivate residents and visitors alike. Protected from the harshest weather by the lake's summer breezes and insulating winter warmth, the narrow strip known as the Northeast Ohio "Wine and Vine" Trail produces excellent cool weather wines, such as Riesling, Gewürztraminer, and Pinot Gris as well as award-winning Icewines. This area features nineteen wineries, scenic water views, covered bridges, and much more to delight visitors.
_____________________________________________________________________
Ohio Wine History
Ohio has a long history of wine production. As early as the 1800s, settlers were exploring winemaking in Ohio, mostly along the Ohio River, near present-day Cincinnati. They planted Catawba grapes and produced a light semi-sweet wine, distinctly different from the European-style wines, popular during that time. The fledging Ohio wine industry thrived, and by 1845 Ohio was producing over 300,000 gallons annually. Shortly before the Civil War, Ohio was the largest wine producing state in the union. All that changed during the Civil War, however. Manpower was scarce and neglect allowed disease and mildew to destroy most of the region's grape vines.
At the same time the southern Ohio wine district was floundering, a new wine area emerged – along the Lake Erie shore, in northern Ohio. German immigrants, who were flocking to that area in the late 1800s, brought German winemaking techniques with them, and that, combined with the unique lake climate, produced some excellent wines. Wineries popped up from the Lake Erie Islands, near Sandusky, all the way east to the Pennsylvania border. This narrow strip became known as the "Lake Erie Grape belt."
The Lake Effect
The nearness of Lake Erie creates a narrow temperate climate, well suited to producing grapes. During the heat of the Ohio summer, the breezes off of the lake cool the vineyards. In the late fall and early winter, the warmer lake helps to keep the coldest temperatures at bay. Lake Erie also acts as a vigorous snow machine during these months before the lake freezes completely. This phenomenon, known locally as the "lake effect," drops a blanket of insulating snow over the Lake and Ashtabula County wine districts every year.
Ohio Wine Varietals
The Lake Erie coastal climate is well suited to varietals commonly associated with German wines, such as Riesling, Gewurtzmeiner, and Pinot Gris. These grapes thrive in cool spring and fall temperatures. A few wineries have also begun to produce a very good Pinot Noir, another grape that thrives in cool temperatures. Chardonnay grapes thrive in the microclimate that exists near the Ohio/Pennsylvania state line and severalwineries in that area, including Markko Vineyards, produce excellent sparkling wines. Also popular here is the regional favorite, somewhat sweet wines, produced from the native Catawba grapes.
Excellent Icewine
Less well known and more affordable than their Canadian cousins, Ohio produces excellent Icewines. Original crafted in Germany in 1794 by accident after an early frost, Icewine is made by allowing the grapes, usually hybrid Vidal Blanc grapes, to remain on the vines until after the first frost. This freezing concentrates the flavors and produces a sweet, somewhat complex wine with slight apricot and melon overtones. Creating Icewine is a labor-intensive process, as the fragile, frozen grapes must be handpicked and yield less grape juice than grapes picked in the fall. Icewine is an ideal accompaniment to desserts, such as crème brulee or chocolate mousse, or a cheese course. Delicate Icewine also makes an excellent aperitif or after-dinner drink. An excellent example of Ohio Icewine is the Vidal Blanc Grand River Valley Icewine produced by Chalet Debonne, a 2003 Wine Spectator award winner, which retails for about $30 per 375 ml bottle. Chalet Debonne also makes a red Icewine, crafted from Cabernet Franc grapes, which retails for about $40 per 375 ml bottle.
Ohio Wineries
The nineteen wineries of the "Wine and Vine Trail" along Ohio's eastern Lake Erie shore, range from small family-run farms to large corporate concerns. Below is a sample of some of the best known and most interesting among them:
Chalet Debonne
Located in Madison, Ohio about an hour east of Cleveland, Chalet Debonne is one of the largest and most diverse of Ohio's eastern Lake Erie wineries. In business since 1916, it is the largest estate-bottled winery in Ohio. They are best known for their Riesling and Icewine, but also produce excellent Cabernet Franc and Chambourcin red wines.
Chalet Debonne hosts concerts on weekends throughout the years and special events, such as a St. Patrick's Day corned beef dinner (with wine) and an Easter egg hunt for kids. Visitors may take a free tour of the winery and taste a selection of Debonne wines for a small tasting fee (required by Ohio law).
Ferrante Winery, located in Harpersfield, Ohio produces fine buttery Chardonnays, crisp Rieslings, a delicious and peachy Icewine, and Vino della Casa, an off-dry house specialty wine crafted from Cayuga and Vidal grapes, among others.
Ferrante Winery is not just a winery. The adjoining restaurant serves up some of the best food in Ashtabula County. Specialties of the house include Pollo Portabella (chicken with mushrooms) and Veal Scaloppini, among other Italian favorites, and of course, all meals are accompanied by the excellent house vintages. Ferrante is also home to summer events, such as special wine dinners and jazz concerts.
Harpersfield Winery is a small, family-run estate, located about 40 miles east of Cleveland. Begun in 1979, this winery is known for its Chardonnay, Riesling, Gewürztraminer, and Pinot Blanc wines, all of which use estate-grown grapes. Their rustic and relaxing tasting room is open for visitors to sample Harpersfield wines. A wood-burning cook stove produces home-baked bread to accompany the tasting.
Laurello Winery, located just outside of Geneva, Ohio is a family-run boutique winery, specializing in handcrafted full-bodied blended red wines, in the Tuscan style as well as crisp, acidic Rieslings and smooth Chardonnays, aged in Hungarian oak. Their Cosmos is a medium-bodied blend of Sangiovese and Merlot grapes and has subtle hints of cocoa, cherry, and coffee. The adjoining restaurant features brick-oven pizzas and elegant Italian entrees, accompanied by the house wines.
Located in Conneaut, Ohio, near the Pennsylvania/Ohio state line, this family-run has been growing grapes since 1968. The priority is on wine wines here, particularly those crafted from Chardonnay and Riesling grapes. Noteworthy are the complex demi-sec sparkling wine, made from 100 percent Chardonnay grapes and the Riesling, which has unique apricot and honey overtones. Markko welcomes wine lovers to tour the farm and taste the wines by appointment.
Visiting the Lake Erie Wine District
The Ohio "Wine and Vines Trail" begins about 30 miles east of Cleveland, Ohio and about 90 miles west of Pittsburgh. Although the area is interesting year round, the best time to visit is in the spring when new Icewines are introduced and in the fall during the traditional grape harvest. Visitors can fly into either Cleveland or Pittsburgh and rent a car to best explore the area.
Ashtabula and Lake Counties boast a host of interesting and romantic bed and breakfast accommodations as well as charming restaurants. Fitzgeralds B and B, located in Painesville in eastern Lake County, offers visitors a taste of Ireland in a spacious, 12-bedroom Tudor home. The Gilded Swan, on the harbor in Ashtabula, is a Victorian B and B with Jacuzzi tubs and sweeping lake views.
While in the area, be sure to visit one of the many authentic covered bridges that dot the landscape as well as the nearby Amish communities in Geauga Country, known for their handcrafted furniture and family restaurants. Also worth visiting is the quaint village of Chardon, home to dozens of interesting antique shops and the annual Maple Syrup festival.
Ohio wines are excellent, exciting, and surprising affordable. The Lake Erie wine district is filled with history, sweeping lake views, and picturesque and friendly wineries. Come see what everyone is talking about. Experience Ohio's "Wine and Vine" Trail for yourself.
Resources
Ohio Wine Consortium - www.ohiowines.org
Ohio Wines – www.ohwines.org
Chalet Debonne - www.debonne.com
Harpersfield Winery – www.harpersfield.com
Ferrante Winery – www.ferrante.com
Laurello Winery – www.laurello.com
Markko Vineyard – www.markko.com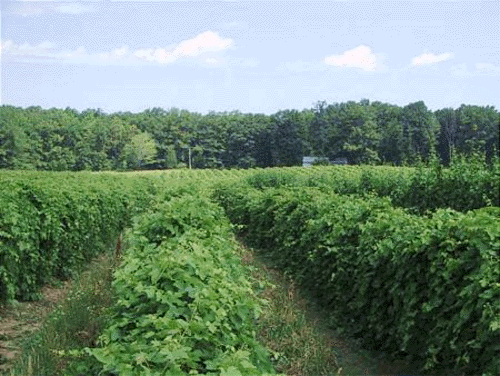 _____________________________________________________________________
Sandy Mitchell is a Cleveland-based freelance writer. Her articles have appeared in national publications and websites.
Photos were taken from Chalet Debonne - www.debonne.com