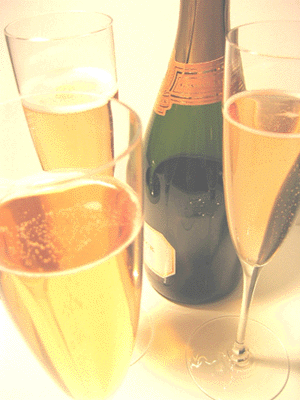 Mark
Kernaghan's
Sparkling
Wine
Review
Ah! The holidays are coming. One of my favorite memories is as a college student lunching at a little restaurant on the Quai Voltaire ensconced in a banquette surrounded by warm paneling and steamy windows on a rainy Christmas Eve. At the suggestion of the owner I ate rabbit casoulet accompanied by a memorable sparkling rosé. It was nothing less than heaven. This anniversary lunch has often been repeated over the years and is more evocative for me than any madeleine could ever be.
I know - sparkling rosé you say - isn't that "pink champagne"? Or even worse - it is horrible stuff; my parents served Cold Duck once and. I will never forgive the marketing people who introduced the term "pink champagne" because it simply isn't pink, and pink makes us all think of that horrible old English romance novelist, and I can't even imagine what a bottled "cold duck" could possibly taste like - or how it could possibly relate to this effervescent nectar. Give up the errors of your past and prepare to embrace a new tradition!
The holidays are a great time to indulge in fine French champagne and nothing is more delightful at this time of the year than a good sparkling rosé. Preparing for a season of friends, family and celebration, I recently sampled three lovelies - all product of France. Live a little - the holidays come only once a year. Serve it at Thanksgiving - but not with pumpkin pie, a good liqueur goes so much better. Introduce it on Christmas Eve as you welcome friends and family. Open it on Christmas morning as you tear open packages and indulge in a sumptuous breakfast and feast on it as you celebrate Christmas dinner. Pop the cork (the only time it is permissible) as you welcome in the New Year with an extravagant midnight supper. Indulge!
A fine wine I recently sampled over what easily could have been a delightful Christmas dinner, was the Laurent-Perrier Cuvee Rosé Brut (about $55). This is a wine to make memories. The color was unmistakably salmon - NOT pink; the bubbles small, fast and regular. The wine is made of one hundred percent Pinot Noir grapes. No still wine is added to affect color. We waxed eloquent over the immediate tones of strawberry and raspberry and were pleased with how well it went equally with foie gras, lamb and duck. An hour after the bottle was opened it continued to impress. The chef who cooked the dinner joined us for dessert. "Strawberries," he said, "No, raspberries," and insisted that we add his special chocolate truffles to our dessert as they would be perfect. An ordinary Wednesday evening became a celebration. No scrooge here - this is a wine to celebrate any holiday!
On the lunar eclipse I thought it would be delightful to celebrate with friends so I dropped in with a bottle of Nicolas Feuillatte Premier Cru Rosé (about $40). You know, red moon and all of that. This was perfect chance to test out this wine as an aperitif. This wine is primarily Pinot Noir and Petit Meunier with just a little Chardonnay. That wonderful color of your mother's strawberry freezer jam, this delicate wine also exhibited fast steady small bubbles. A little citric, a little floral, kind of like how orange blossoms smell, not really very berry in flavor, this wine surprised us all. I swear I could taste sunshine in the bottle. My hostess felt the desire to go to the beach. Her husband proposed a trip to Provence. We all felt an early spring was in the air on a rather chilly autumn evening. The eclipsed moon looked warm rather than cold. What an effect it had on all of us. On the downside we abandoned the hors d'ouevers feeling that this delicate wine was best sipped alone, with fruit, or perhaps, a fruit tart. Serve this when guests drop by in the middle of the afternoon. I guarantee that it will brighten even the winter solstice.
Over a salmon dinner fit for any holiday imaginable, served up by dear friends, I selected a Piper-Heidsieck Brut Rosé (about $55). This was an old friend I was looking forward to drinking. Deep salmon in color the bubbles were just as they should be fast small and regular. Made from one hundred percent Pinot Noir grapes, I could taste cherries and my friends described it as slightly nutty. It only got rounder in the mouth as the dinner progressed. Not only does this wine go beautifully with salmon, but also eggs and caviar ("Ah," you say, "what could be more perfect for Christmas breakfast or for a New Years Eve supper?") and, surprisingly enough, roasted asparagus. Not a wine to be served with sweets, I cannot think of much else you wouldn't want to serve it with. This wine is so quintessentially French that we all got a little misty about past trips and ended up promising their daughter Zoë a trip to Paris in the near future. Pere Noel came a little early this year!
Go out this holiday season and indulge a little. Celebrate with friends and family. Try the unexpected. Give up those old out dated notions of sparkling rosé. Make new traditions. Raise a glass that will warm your heart. May your New Year be as bright and effervescent as a glass of newly poured champagne. May it be filled with the warmth and cheer that we all seem to take on when we enjoy this special gift of France. Joyeux Noel!
_______________________________________________________
About the author: A Seattle native, Mark Kernaghan has been a life long traveler. He delights in pursuing culinary adventure. He is a fan of the performing arts, especially opera, and loves a good Sunday afternoon at the museum. On a good evening he is found at home either entertaining friends to supper or lost in a good novel.