My conversation at Westport Rivers started with talking to Rob, the older brother of the winemaking duo and the principal grower. We started talking about how they got their start in winemaking in Massachusetts. Rob and Bill Russell are the grower and vintner, respectively, for the Westport Rivers Winery, which is located in Westport, MA. It is the largest vinifera winery in the Northeast. They produce a variety of wines including a number of excellent sparkling wines. Their winery also participates in food education with classes that teach food and wine pairings. The winery was purchased in 1982 and in 1986 was planted with 44,000 vinifera vines. Their touch with winemaking was apparent after their first vintage, which they won a gold medal with their Chardonnay, and since then have won numerous medals and critical acclaim. If you are interested in more information regarding the Westport Rivers Winery see The Better Drink's feature article by Dr. Timothy Smith entitled "America Is Bubbling Up In New Places".
So, how did this all begin?
Rob: My great-grandfather on my mother's side was a sheriff in New York City, moved to the Finger Lake Region of New York, purchased his winery, and my grandfather inherited it along with his five siblings. He ran it for several years but his siblings wanted to cash out of the estate so he was forced to sell it.
My Dad had heard stories about this for years from my Grandmother. My Grandfather converted him from a beer drinker to a wine drinker. My Mother bought him the infamous home wine making kit in the 1970s and he started making wine - none of which, as I can recall, was any good. He started growing grape vines as well, as a hobby, in Dighton, MA where I grew up. We learned that we couldn't grow the types of grapes we wanted to grow - most people use the grape species vinifera Cabernet Sauvignon, Chardonnay, Riesling - but they are more cold sensitive than the native grapes around here as vinifera are native to the Mediterranean. That being a hobby, his education was in metals - my Dad has his Master's in metallurgical engineering and he went to Harvard Business School.
How did he get involved in metallurgical engineering from his interest in grapes and wine?
Rob: Well, the wine making was a hobby, this wine kit was given to him in the 1970s and he was in college in the 1950s. He got into metals from his side of the family. His grandfather was in the tool die business. He came into the US with nothing and built a pretty successful business. My father worked for him in the summers and took metallurgy in school. He came up to Mass from New Jersey, where he was from and where he met my Mom.
Now that I'm being asked to recall all the facts, it's tough! To hear him say it, I realize that I'm not listening to every detail. When I give a tour around here, I skirt over the details, but asking me about my heritage.
What is your heritage?
Rob: My Mom's side is from Hungary and Austria and my Dad's side is from Scotland.
Not a lot of wine making regions in Hungary or Scotland.
Rob: In Hungary they do grow quite a lot of wine, but not as much as in Western Europe.
So he was working for several small companies in the Attleboro region of Massachusetts and eventually goes to work for Texas Instruments. He met some people and decided to start his own business with three partners. They rented a part of the CIC complex in Providence it's called the Foundry now - huge old brick mills about two centuries old. During the period of 1967-1980 the company, Technical Materials Incorporated (TMI), grew to 400 people from the original three. At that size he was getting burned out, so he opted to sell and his partners sold as well.
Meanwhile, he knew that winemaking was something he wanted to do as a second career. He had been researching winemaking knowing that he couldn't grow the kind of grapes he wanted to in Dighton so he started looking to more temperate climates. He looked as close as the south coast of Massachusetts, Finger Lakes, Long Island, Oregon, Washington, California, he toyed with the idea of buying a farm in France- all sorts of things. At that time I still had siblings in high school. He felt like he had grown roots in the area, he hadn't been in MA since the 1950's, and he didn't want to uproot the family.
How many kids in the family?
Rob: There are four of us; I'm the oldest, Bill's the second oldest, then I have a sister and a smaller brother. He's not smaller anymore. He's bigger than me.
He settled on Westport to stay closer to home. The difference between here and Dighton is that we're in a more maritime influenced climate.
This water's really warm here.
Rob: If you look at the Eastern Seaboard, there's only one south facing coast - Long Island, Connecticut, Rhode Island and south eastern Massachusetts. As the season progresses here the Gulf Stream comes really close to shore. If you look at a GIS map, you see the warm water gets pulled in right to the coast. That doesn't happen in Jan/Feb but the water doesn't get cool down as fast as the land does. It still gets cold - it was minus six here, the coldest winter we've had since 1996, but in the Taunton area it was close to minus twenty. If you have healthy, balanced vines they can survive minus 6. At minus 10 you're seeing damage, at minus 15 you're seeing severe damage and at minus 20 you're replanting the vineyard. The Finger Lakes saw minus 15 this year, but they do some cultural management that we don't do. I can go into that now or.
I'd like to hear more about how your father got this vineyard started.
Rob: We're on the South Coast. There were people in the area already growing vines - there are two vineyards in Dartmouth. Stonington in Connecticut has several vineyards. This region is an appellation - the South Eastern appellation. South Eastern appellation was the third designated appellation in the country. The first was Napa. It runs from Dorchester Bay just south of Boston and runs southwest - it includes the Cape, the islands, the south coast of Massachusetts, coastal Rhode Island and coastal Connecticut. The unifying factor, of course is the Atlantic Ocean with its south-facing coast. The waters north of Boston are much different - they don't get the same water that we do. We had dinner last night and my Mom said the water temperature was 70 - it didn't seem like 70 to me, but..
What was this before it was a vineyard?
Rob: Looking around at this area, he knew it could be done. People were experimenting with vinifera grapes although there were a lot of different hybrids being grown. He only had interest in growing vinifera - if he was going to do it he was going to do it right and he wanted to achieve the finest reputation. He wanted to have an estate-grown and estate made winery. He took a leap of faith thinking that he could do it here. He looked at weather data, compared heat degree units with France - we're fairly similar to northern France. We're warmer than Champagne but a little cooler than Burgundy and we get rainfall intermittent through the growing season as all of Europe does. The West Coast is an anomaly they are growing grapes in a desert. That's why they don't have problems with humidity - they get their water from the Colorado River and they can grow grapes in their desert. When you discuss sustainability, well, maybe I don't want to get into that.
That's OK, lets talk about the farm.
Rob: My Dad and Mom chose this farm and this town because this town is and was primarily agriculturally based. Westport has the largest number of dairy farms in Massachusetts.
Was this a dairy farm?
Rob: It was.
I saw a picture inside of an old dairy barn inside.
Rob: That's right behind you. When we bought this farm it was owned by the Smith family for 100 years - they were immigrants from Scotland. They were primarily potato farmers but they diversified into dairy.
How many acres did you buy initially?
Rob: Initially 120 but he farm right now is 500 acres. Land was inexpensive around here in the 1980s.
Is that because a lot of the dairy farms closed down?
Rob: Well when we moved here there were about 35 dairy farms in Westport, which was half of what it was in the 1950s. Today there are 8. There are still a lot of cows in town, but the farmers are shifting to a feedlot mentality where back in the 1980s the average herd size was 60-70 cows and now it's around 300. There are fewer farmers, but many more cows.
Were you still in college when the family bought the farm?
Rob: I was just graduating - I was at the Wentworth Institute of Technology.
What were you studying?
Rob: Architectural engineering.
That's a pretty big leap! From math and physics all day to biology and soil temperatures. Where did you learn that? Did your Dad help you with that?
Rob: Mostly texts and speaking with people. Through my teen years I opted out of the camp programs to work for my neighbors. I had two neighbors - one was a builder and the other was a vegetable farmer. Reed Brother's Farms is probably one of the top vegetable farms in Massachusetts.
So you got your hands dirty when you were young.
Rob: I didn't work for Reed's I worked for the builder! I started when I was 14 - carrying ladders around and being the gopher.
Go to Dunkin Donuts and get me some coffee!
Rob: Well, you can't when you're 14. I was driving a dump truck when I was 15.
Did your Dad inspire you to do this?
Rob: I always watched what was happening on the other side of the fence at the Reed's. We had a garden at home, and it kind of gets into your system.
I think it goes through the fingernails right into the blood.
Rob: Exactly. So, I started at Lafayette College in Pennsylvania in mechanical engineering. I was impatient. I didn't want to weed through the calculus classes, the COBOL and all that. Plus it was a big party school back in the 1980s and I needed to get out of that scene. That's why I went to Wentworth. I knew I wanted to design and build, so I stayed there for two more years. At the same time my parents had bought this farm. Other than the climate there's a lot of agricultural support here. If you need to borrow a tractor from someone you just go around the corner.
We're you excited when your parents bought this place?
Rob: Well, when you're 20 or 21 you say to yourself, "OK, they're doing something different". But then I started paying more attention. I came down here a few times and had some conversations with my parents. I started showing some interest and my parents said that I could work for them if I wanted.
You must have been a little excited, if my parents had bought some land and said that they were going to be making wine, I think I'd be happy. It sounds like a lot more fun than carrying ladders and calculus classes.
Rob: At the end of every day after building a house you have a beer anyway.
Is that where Buzzard's Bay Brewing came in?
Rob: That's Bill's gig. He hatched that idea.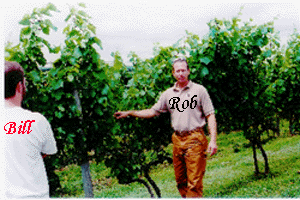 I've had Buzzard's Bay Beer in Boston a number of times, I didn't realize before coming here that Westport Vineyards owned that brewery. So, you can still have a beer at the end of the day.
Rob: That's right. It takes a lot of good beer to make good wine.
Bill walks up to the table.
The younger brother arrives! Does Rob boss you around all the time?
Bill: He just threatens me. It's that older brother edge that's always there.
Rob: It's only in your mind at this point.
Obviously your Dad was a big influence in all of this. He had the home winemaking kit, he was the one that sold off his part of the business and bought this farm.
Rob: So, when my parents said that I could start working here, I went to a vineyard on Long Island in Old Brookville. I lived in Seacliff. I had a basement apartment on the beach. I was there for Hurricane Gloria.
Well that couldn't have been a lot of fun. Did you get flooded? All those vinyl records made it out of there? Your Journey Escape LP?
Bill: Journey Escape was me, he was more of a Born to Run kind of guy.
Rob: I lived with this insane girl from Argentina.
Bill: Rob, don't. this could go in the press.
Rob: That's right.
We can pause the tape if you want.
Rob: It wasn't my doing, it was her house so I rented a basement apartment from her. I worked down there for a year for Fred Frank. Working on the vineyard, putting vines in, doing all the cultural stuff.
That must have been a good introduction.
Rob: It taught me enough to let me think I knew what I was doing.
How did you get that job?
Rob: My dad had made friends with Willie Frank from upstate New York. He ordered a bunch of vines from him - 28,000 or so. So, my dad called him up and asked him if needed help. He said no, but my son on Long Island could. I met a lot of the people who were growing grapes back in the early 80s, which opened a lot of doors. I could call them on the phone and get advice. I moved up here in 1985, and that winter it didn't look like this at all-nothing like this. It was in a state of major disrepair. No one lived in that house since 1962. This barn was on its way to being on the ground. Right behind us was a big tool shed that was falling down. There were three large chicken coops, two of which were down on the ground. There were saplings growing everywhere, maybe fifteen-foot trees. There was a big potato cellar that had been burned down and about half a dozen other buildings. I moved into that house, which is the wine and food education center.
So your building experience came in after all.
Rob: Well, actually I didn't do much hands-on of redoing that. That building was one big room. That was vintage 1910 in there with clunky push button light switches. It made a good bachelor pad. I lived there for about five years. We had grapes coming in the spring, that was 1986.
You were here to plant the vines on day one?
Rob: Yeah. With help, but I planted all the vines and laid the trellis.
That's a lot of work. Did you ever get discouraged?
Rob: No. You put your head down and you do it. There are always setbacks, of course, but the turtle's the one that's going to win, not the hare.
What was the first big setback?
Rob: I don't want to tell you. <laughs> Actually this past winter was tough because it got down to minus 6. The vineyard has about 90 thousand plants on 80 acres. We probably lost eight to ten thousand vines-almost ten percent. That was a big setback. But you keep doing.
So when did Bill show up?
Rob: He started at the beginning, too. But he started redoing the house so we could live in it. We did the carpentry work. He put the first dent in the first tractor. They were pulling a fence post out - a metal fence post banged into the tractor.
Bill: We ripped all the stanchions out from the machine shop.
Rob: You guys also put the first anchor in, didn't you?
Bill: Yeah.
Rob: With that post hole digger we had?
Bill: Yeah.
Rob: You came back in about two hours later and said, "This isn't going to work."
Bill: You know those post hole diggers with the auger on them? We got it started and it just wouldn't stop. Both of us had our hands underneath it and our hands were stuck to the ground. It was really funny. It didn't hurt or anything, but it was funny.
Did you guys live in that house together?
Rob: You were down here on winter break from college, weren't you?
Where were you going to college?
Bill: Boston college.
What were you studying? Girls and beer?
Bill: It was biology at the time, but it ended with Philosophy. Beer. More than girls. As would be normal.
You are the winemaker? How did you get involved in that?
Bill: Well, I didn't want to work here at all. That was a tough winter. I had taken time off to work for Reuters in South East Asia and I had plans to go back and work for them.
Wow, that's exciting stuff, where were you in South East Asia?
Bill: It was in Bangkok. It was great; it was what I wanted to go back to.
I won't ask for stories from Bangkok, I'm sure there are too many to tell.
Bill: Still more beer. Singha. The beer was good. It was cold.
Rob: And you left your friend behind!
Bill: Well, he was already there. He just stumbled in at 19 landing a bureau chief job at BizNews, which got swallowed up by Reuters at one point to become the television part of their corporation. But BizNews was the largest feed for video. Just like Reuters or API you would buy a feed from them. The previous bureau chief died. There was a military coup in the mid 1980's in Thailand. I don't know if you remember, but there's a pretty shocking famous of an Australian video journalist going down and his camera kept rolling. His friend dragged him back, and he just did a great job so they kept him on. He stayed there, but I never got back after I left.
So you stayed in the States?
Bill: My intention to go over there - one winter we spent a weekend up in the Finger Lakes with Eric Fry who is the winemaker at Dr. Frank's Vinifera Wine Cellars. Had fried eggs in the morning.
Rob: Oh yeah, with the oregano or whatever it was.
Bill: Tarragon. You have to have it to understand, its really good. So I met Eric Fry who seemed like a really cool guy. He was their wine maker at the time. In the fall of 1988 I graduated from Boston College and ended up here at Christmas. So a buddy of mine and I came out and we decided to prune the vines.
How did you learn how to prune the vines? Did Rob show you once?
Bill: More than once.
Rob: At that time there was a lot of the little brother oppression we talked about earlier.
Bill: That's right.
Rob: There was hostility that would seem to arise at times.
Bill: You were just trying to be a good boss. You had examples of being a boss as being "do what I tell you".
Rob: Right. The guy I was building houses with was a sergeant in the Army.
So it was Full Metal Jacket building houses?
Bill: It became Full Metal Pruning.
Rob: The other guy was a Vietnam vet, so it was very. focused.
Bill: We had a great time out there. It was a great pruning season. I was planning on making enough money to get my plane ticket back to Hong Kong. End of the pruning season, I ended up with a dog.
Rob: There's a guy who trains his Labrador Retrievers in the field out here.
Bill: I still figured I could go to Hong Kong with the dog, even though it could have ended up on someone's table. I spent the summer doing what I had done in previous summers, working at a summer camp. My dad had asked me at one point in the summer to see if I wanted to check out to see if I wanted to be a wine maker. So I went out to California buzzing around Napa Valley talking to some people he knew out there, to see what it was all about and I said, "Yeah, I'll help you out this year." The thing that pushed me over the edge was that Eric Fry was going to be my consultant. I had already met him, he's a great guy, and he made great eggs. I already knew the guy who would be looking over my shoulder, and he was already filling my brain with all sorts of information. I love being on the learning curve so this was a lot of fun. I still had no desire to be involved in the family business, one way or the other. I just wanted to get through, learn something and have some fun. I made it through that year, spent the next summer back at summer camp being a counselor, met my future wife, came back down did another harvest, and it started growing on me. The journalism field is awfully competitive, the same guy you share a scotch with the night before is trying to beat you to the story the next day if not shoot you on the way to the story so you can't get there before him. The winemaking world is the complete opposite of that. Everybody shares all kinds of information with everybody.
I think the combination of this extraordinarily open culture, which is very attractive, and the idea that, at long last, I'd be doing something with my brother despite the previous experiences would be a great thing that I really couldn't pass up. My uncle on the west coast had a big influence on that. We had a great talk one afternoon when he told me that he had an opportunity as a young man to do something with his brother and he passed on it, and it was one of the biggest regrets in his life. I didn't want to have that regret, so I tried it.
Are your sister and other brother involved?
Rob: They've both been involved. Peggy is still involved on a part-time basis and Jamie was involved but he's gone off to the seminary.
I guess that wine and the seminary do go together. "Official distributor to."
Rob: (laughing) It all comes full circle.
There must have been a lot to learn, you can't just pick up winemaking that easily.
Bill: You never get off the learning curve - it's nature. The wines are made out there (points to the vineyard). It took a while to realize that. You say it, it sounds good, but to finally realize what that means and the repercussions of that - in terms of how you handle the juice and guiding it into wine.
What was the first wine you made?
Chardonnay and Riesling.
What's the most difficult wine to make?
Bill: To grow or to make? It's growing it.
Rob: We don't have any sauvignon here because it's too short of a growing season and we don't have enough heat. Even though the vine can survive through the wintertime, cabernet sauvignon gets its mature varietal characters very late in the growing season. There's no positive attributes early on and we never get beyond that state.
Have you tried it or did you know it would be a no go from the beginning?
Rob: On paper it's a no go. Just look at what it takes to ripen up a merlot, Bordeaux, cabernet sauvignon. We just don't have the heat here. We know its not going to work.
Bill: In the Chablis region of France, they don't have to try to grow cabernet sauvignon, they know they can't.
Rob: We wish more people would look elsewhere to other growing regions with similar climates to ours to see what they grow there rather than trying to buck the trend and make a world class cabernet sauvignon in a cold growing region. Viticulturally the most difficult grape we've grown here was Riesling. That was the icing of the cake this year. The lack of winter hardiness - if you look in a textbook that's not what it will tell you. Riesling is a very winter hardy variety, but, for whatever reason, we don't quite finish the physiological ripening process, the vines don't collect carbohydrates as quickly as the other vines do.
We've been able to manipulate the other varieties to get them to do what we want.
How did you get involved in sparkling wines?
Rob: Looking at heat degree units we knew we were on the borderline of being able to do some of these things as still wines. Growing pinot noir is like chasing the holy grail. Bill does more sampling of wines from outside regions. I haven't tasted many good pinot noirs.
Bill: In general.
Rob: In general, right. It is a fickle grape to grow. It is the oldest documented variety.
The Romans were drinking Pinot Noir?
Rob: Now you're catching me on history, I don't know.
Bill: Probably. The Champagne region is one of the oldest grape growing regions in Europe as far as continually growing grapes over an extended period of time. They have been growing Chardonnay and Pinot Noir since the beginning.
Rob: There is a lot of clonal variation. You can have a vine in three separate places and they all look completely different from each other. A rule of thumb with pinot noir is that you don't put all your eggs in one basket. You don't grow all clone A. You grow half a dozen different clones.
Bill: Even with bubbly, you need to get some complexity.
Is that complexity hard to do with sparkling wines? Is that the most difficult part of making a sparkling wine?
Bill: The challenges with making sparkling wine include growing the vines in the right place. If it's the right place, that challenge disappears and we happen to be in the right place. We can pick the grapes and they're perfect, we don't have to play with them very much. We just treat them as if we're in Champagne. We pretend that we are French. We speak in outrageous French accents!
Rob: I took four years of French, but I lost it all.
Bill: That's the first thing, the climate. The wine's make themselves. There's not a lot of challenge once you get good grapes.
You're saying your job is pretty easy and Rob does all the hard work?
Bill: Pretty much!
Rob: For sparkling wine, it's really easy to do here. It's more labor intensive, it needs more mechanical labor, but it's just mechanical. As long as you have the financial investment.
Bill: Its four years of cash being tied up, in a product while its aging.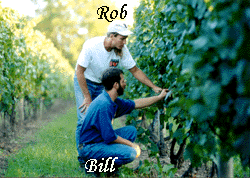 Are there other Massachusetts sparkling wines?
Rob: We're not an anomaly. This region could really pull itself out and say we are a sparkling wine growing region. It's natural to it. We just don't have the ownership of the farms in this region, we don't have the people who are making wines who are willing to put that investment in for four or five years.
Bill: For whatever reason, people want to do something different than what their neighbors are doing because they perceive a threat. They don't want to be competing with each other. People think they need to find a perfect niche. This happens wherever you are growing grapes. In France, the competition revolves around the style. Growers have different style from each other. Which style do you like? There are a million styles of sparkling wine out there.
Long Island has decided that merlot is its grape and they've all gotten together to market Merlot as the wine of Long Island. The Riesling market is dominated by Germany and Alsace, but the Finger Lakes have gotten together and said Riesling is our varietal. Regardless that they grow other stuff, but Riesling is the thing what we are going to market. For us in southeastern New England we got together and said chardonnay was going to be the thing we all grow. Our chardonnays are really nice. They are a crisp, bright, refreshing style of chardonnay. If they were bubblies, they would be at best amusing bubblies instead of very nice ones. And that's all we're trying to say. Of all the products we make, this is the benchmark - this is world class.
Have you been to Texas and other places where they grow wine? When I think of Texas I think of Houston and Dallas.
Rob: Every state has a winery right now. I think South Dakota has a winery now.
When I first heard that there's a vineyard in Massachusetts, I was looking out my apartment window in Boston thinking, where do they grow wine around here? Under the Big Dig?
Bill: They're using the heat from the steam . all the carbon monoxide.
What's the last good wine you bought?
Bill: That's not fair. I just went nuts. I bought some Bollinger champagne, which is good. That's not typical. I'm usually more thrifty than that. Muscadets, things like that.
What's your favorite Buzzard's Bay Beer?
Bill: The lager.
Do you make them, too? Are you the brewmaster?
Bill: No, it's my brainchild, but we have actual professionals who know what they are doing over there.
Because that's a complicated process.
Bill: Running a brewery is like running a professional kitchen. You have recipes that are set and you mix them all together.
How did the beer thing get started?
Bill: It takes a lot of good beer to make good wine.
I heard that before. So, you decided that it was better to have it fresh from the keg rather than run to the store to get it?
Bill: That's it. We actually wanted to improve the quality of the wine, and the best way to do that is to start a brewery. Keep the winemaking staff happy. It's bad to be making wine while you're drinking it. It actually makes poor quality wine. You're supposed to drink beer. You have to be in it, while you're making it.
No glass of scotch while you're making wine?
Bill: No way. None of the hard stuff.
Is your Dad your boss?
Bill: Yes, but he never has been in terms of how the place run. For whatever reason he gave us enough rope to hang ourselves, but we never did. He's always run the books and taken care of the business side.
Do you get along well with your Dad? Does he get mad when you don't make sales for a quarter?
Rob: Sales have expanded because we're no longer only growing and making the wines but we also do all the sales. Bill manages all the off-farm sales and I do all the on-farm sales. So I manage the store. It's about 50% on-farm and 50% off-farm.
I bought Westport Sparkling Wine for the Millennium.
Bill: Great, so you contributed to the 50% off-farm.
But I don't think I've seen many of your other wines in my local liquor store.
Rob: You won't. Most of them are only for sale here. There are only three that are on the market now.
Bill: The Brut Cuvee, the Chardonnay and the Rose Pinot Noir. The Chardonnay is a little ahead of the Brut in sales.
Do you guys live on the vineyard?
Rob: Yes.
So you wake up every morning and your work is right outside the door.
Bill: It's like having a home office.
Rob: I haven't figured out if I live at work or work at home. It gets tough to get away.
Mother nature is in charge of your job, kind of hard to get away.
Bill: If you think about wine growing, we only get about 30 shots to do it in a lifetime. At some point, somebody else will be doing it. So I figure if I started making wine when I was 24, maybe I get 40 chances. Which means I'm over a third of the way done.
Only forty shots to prove yourself?
Bill: Yes, if you mess it up, it's a whole year gone. That's why wine making is so agriculturally oriented. It's just like anything else you put in the ground its at risk.
Rob: It's different than brewing beer. If you mess up a 50-barrel batch, it goes right down the drain.
Bill: You're using someone else's grain. If it's a bad year, the price of grain goes up as someone's crop fails.
Beer brewing seems more like science, while wine making seems more like art.
Bill: I don't know, they are both really craftsmanship oriented. When you start dealing with small batch brewing. There is a cultural difference.
Do the brewmasters drink wine while they're brewing?
Bill: No, they're the ones that drink scotch. Beer has to be dreadfully clean. White bibs, everything is completely sanitized from start to finish. Winemaking starts off in the vineyard. The grapes come off - we don't rinse them, there's dirt, bugs, small children, they all go into the press. We don't sterile filter it before we add yeast to it. It starts off pretty rough. And yet wine ends up in a fancy restaurant with a white tablecloth and a waiter serving it to you. And beer ends up behind the dumpster at four in the morning, or on some guys couch with the remote and a bag of chips in his lap. Where one starts off really clean and pristine the other starts off with dirt, mud and sweat the both end up at exact opposite extremes.
This is a fairly new vineyard, is there a lot of new technology involved?
Bill: The high tech stuff is in the vineyard. Winemaking is fairly low tech. Compared to brewing there's a lot less technology involved.
You also buy the ingredients for making beer.
Bill: Except for the water, it's mostly water.
But in the winemaking all the ingredients come right from here.
Bill: One of the things that makes winemaking worthwhile. These flavors, these characters are what we made. It all starts with dirt. We've taken dirt and done this with it. Dirt and sunlight.and a little water.
Is it going to rain?
Rob: I don't think so, just some passing clouds.
You're the grower you must get a good sense of that.
Bill: He twitches. His knee swells up.
Rob: No it's not going to rain.
You can tell?
Rob: Sure, I have a computer.
Bill: The greatest thing about the Internet - the single biggest impact on us has been instant weather information. We can decide whether to pick or not to pick based upon looking at where showers are going to go. We can make decisions right up to the last minute. If you've got some serious thunderstorms coming, you don't want 20 people scrambling to their cars.
How many people do you have working for you?
Rob: 20, staff is ten we bring more people in for harvest.
Bill: The internet is great.
Rob: We track rainfall for historical data.
Do you track other things?
Rob: The vineyard is fairly uniform as far as soil type. Different layers. Soil classes come out here. This is a transitional area the soils change a lot from here to the river. A local geologist comes out here to train Board of Health agents to test for different things. There are so many different variables.
And it's so beautiful here.
Rob: And he likes wine, that doesn't hurt.
Have you been to the, for example, Pacific Northwest to check out their wines and how they grow things?
Bill: Rob's been out to the Pacific Northwest, but he went to check out hops. It's a pretty amazing experience I wish I had gone.
Rob: I didn't look at a grape vine the whole time I was there.
Bill: I love the smell of hops during harvest.
Rob: Hops is a pretty incredible plant.
Which are your favorite wines of the ones you make?
Bill: I really like the flagships. They are beautiful wines. I find myself drinking the rose more than anything else. They go better with food pairings, its almost a no-brainer. I can go home and see what we have in the kitchen tonight and nine times out of ten the rose is going to be a great wine with it.
Rob: The chardonnay isn't far behind it.
Bill: But it doesn't have the red wine attitude. A little bit of tannin a little bit of color a little bit of red pinot noir red wine character. Its basically a white wine with red wine character.
And the sparkling wines? How do they do? Do they sell well?
Bill: Those are great. Our sales are roughly 40% chardonnay 35% brut and 10% rose and the rest limited releases, including the Riesling.
When you started to make sparkling wine, it looked good on paper.
Bill: Eric Fry said just do it.
Was it hard to learn how to do it?
Bill: Nerve wracking because you don't want to mess it up, and you can mess it up. But if you follow the traditional ideas and apply them to your vineyard it works out fine.
Was it hard to get the equipment?
Bill: The only specialty equipment is the bottling stuff. Corking, wire hooding, caps, gyro palates, but the wine making is straight-forward.
We then went on a tour of the vineyard, to see how wine is actually made. I heartily recommend having Rob give a tour. The passion he has for growing grapes for wine is really something to see.
-Andreas Matern
.