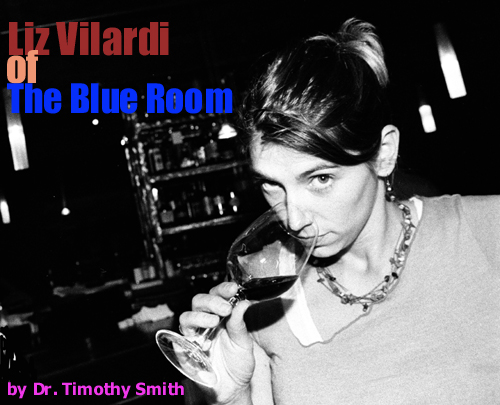 On a clear, cold, windy but gloriously sunny day in Cambridge, Liz Vilardi sat down to talk with me in The Blue Room restaurant where she is the General Manager and wine buyer. The Blue Room sits at basement level in Kendall Square where it draws an enthusiastic crowd to enjoy its progressive Mediterranean cooking and unique wine list. We kicked off our conversation with a brief description of the origins of The Better Drink and Liz revealed that she remembered my name from the reservation list. Since I have not been in for some time I remarked that she must have a good memory, and I asked:
To what do you attribute such an acute memory?
Liz: Wine.
Wine?
Liz: Yes, because of wine I exercise my memory everyday. We don't have bin numbers. So when bringing in new wine or inventorying I am always matching up the wines. Oh these go together. It's like a game all the time like one of those games you play when you are kid matching up the cards.
Tim: So what do you do here at The Blue Room apart from matching wines?
Liz: I am the General Manager and have been so for almost 2 years and was a manager before that. I've been here for almost 5 and a half years. I also have been the wine buyer for the past two years, which I learned from the previous buyer who was also a partner.
Tim: When you are choosing wine to buy do you work closely with the kitchen?
Liz: No I do not too much. I try to, but unfortunately the reality of a restaurant like ours, which is small. We spend a lot of time here and there is a lot of work for us to do because we don't have a lot of staff. The principals of each thing like George (Executive Chef) spends most of his time just keeping every one up to speed with what needs to be done. Also he must keep up with the seasonal change, he changes the menu 8 times a year and teaching interns. So he doesn't get too involved in the wine. However, he is Portuguese and has lived in the country since he was twelve. Sometimes I say 'George, clearly you have the Potuguese flair.' Salt cod in the winter, salads, peppers, lots of fish. I'll say we need to get something Portuguese and he will let me know what he is thinking food wise. But that's about as much impact he has on the wine.
Tim: Your wine list certainly covers a wide variety of types and textures and certainly not a bunch of name brands.
Liz: The former buyer had an affinity for first French and then Italian wines and not American. That is what I leaned, and when the wine became mine I realized that I am more interested in wines that are hard to pronounce, you haven't heard of and challenging. Because ususally there is often a good value there. There is a lot heart there because they're a small production. It's in the family. It's kind of like the restaurant. Small operations, small labels. It's like The Blue Room. It's organics, small production, like the Blue Room. Mom and pops putting things together.
Tim: Is your clientele adventurous, are they willing to turn over these rocks and gems?
Liz: We are fortunate to have a very educated staff interested in food and sustainable food and politics. They understand where they are in world. And food has a lot to do with were you are in the world. There are a lot of educated servers on the floor, which I am very lucky to have. And I think we are a pretty educated management, and I am allowed to teach them about wine, which takes up bit of time but they are in to it. The guests may not always say I'll take the Trocolina or that wine that begins with an 'E' but is pronounced like a 'T.' The servers tend to lead them in that direction. But also our clientele is open to it. We are very lucky to have guest like the ones in Cambridge, very well educated and traveled. I don't think you could even have the Blue Room in Boston. Our guests come from Europe from all over the world and it doesn't hurt to have MIT right here. We have guest that recognize these wines from where they come from.
Tim: So for some these are not obscure wines?
Liz: Caireann, it's a Cotes du Rhone but it's from a little village with its own name that you wouldn't know necessarily unless you were from there. We get French businessmen in beautiful suits willing to spend a lot of money on a bottle of wine and end up spending $30.00 on this wine because it is from where they came up.
Tim: How do you find these obscure wines?
Liz: We use a lot of direct importers; they don't have any warehouses but go out into the regions and meet directly with the producers and bring the wine directly to the distributors. They bring great value to the producers because they can get their wine into the US market and the buyers get a lower price with the direct importing. This is a trend in restaurants in Boston and New York and San Francisco other major cities are trying to provide people with ecology and agriculture and organics, and thoughtfulness, and all these other things are bringing people thought provoking wine, which tends to be different. This is a trend in the business and I can pick from it.
Tim: It is interesting though champagne from Champagne is becoming so corporate that it seems almost impossible to find the small producer there like the ones you are often buying from.
Liz: The very corporate nature of champagne makes the small producer very rare. But of course there is méthod champenoise, which is made in many places. You can find the smaller producers outside of champagne. For example, there is a producer, Guillot, in the Mâcon that makes red Burgundy. He uses Gammay and makes a sparkling pink wine that is wonderful, St. Geneviève Rosé Brut. It's very feminine and tastes like fresh strawberry. We have it on the menu. It gets often overlooked except in the summer. It's a taste you will not find in champagne. But Champagne is a special place, a flavor you cannot find anywhere else. Drinking old vintage rosé from Champagne is something you will never taste from anyplace else.
Tim: Speaking of place, how did you end up here?
Liz: I came from a little town outside of Houston called Huntsville. Not terribly diverse but pretty, very pretty.
Tim: Why did you come up here from Texas?
Liz: I went of Boston College. My father is from New York and my mother is from Miami. We ended up in Texas by way of it worked out well for him. I wanted to come back up North because I had come to New England plenty of times. He had gone to Columbia and I thought that I wanted to go to Columbia. You are very different before college than you are when you come out. Boston College provided lots of things I was looking for. My father had made it very clear that I was going live on campus; so I needed to find a place that was cool to live on campus. And I never left. I got out Texas that was my big flight.
Tim: Did you start off in restaurant management?
Liz: No I worked in an investment bank; I graduated with a finance degree. My father was a doctor and my stepmother, who raised me basically, worked in his office. In a small town in Texas you are either a doctor or a lawyer or a teacher. So, I thought college would be like a technical school where you go to learn a skill. So I ended up in finance, which I didn't like.
Tim: You worked in Boston for a few years?
Liz: Yes, but I went to culinary school at night because I was trying to figure it out and I had friends in the restaurant business.
Tim: The Cambridge Culinary School?
Liz: No the Cambridge School of Culinary Arts. It's a small tiny school run by Dowling is her last name. And I got my resume in here and it was complete and total fate.
Tim: The restaurant must take up a great deal of your time, is there anything you like to do outside of work?
Liz: I love to cook. I cook quite a bit. Apart from that I am a reader. I came to the conclusion a long time ago that I studied all the wrong things in college. So I kind of backtracked; I like to read the classics.
Tim: What are you reading now?
Liz: I just finished Middlesex, Jeffrey Eugenidese, The Virgin Suicides. It was amazing. He actually won the Pulitzer Prize for Middlesex. There are different levels of reading. I was away for a while and I though 'I'm ready for Pulitzer level reading.' Like 100 Years of Solitude you really have to focus on this stuff unlike beach reading.
Tim: In terms of cooking at home, elaborate? Friends over?
Liz: Friends over is tricky. A lot of my friends have gone back to grad school and take classes at night. I cook a lot with my fiancé. And we have a friend who works in the restaurant who used to be the General Manager at The East Coast Grill—Maureen. She's a great cook and great cook extends the perfect peanut butter and banana sandwhich.
Tim: Pierre Franey, I think it was, said, "Anything can be gourmet it you pay attention to the details. Even a grilled cheese can be top level."
Liz: Yeah, yeah the panini. No one has extended the panini quite like I have. I am crazy about the panini maker. It can be panini, it can be cut up salami and really great cheese. That's gourmet. It can be anything. It's very seasonal.
Tim: Beyond food, do you have any champagne stories?
Liz: I tell you one champagne story. It's a metaphor for when people don't know they have something great in front of them. I was out with my finacé on vacation in Miami and we stopped in to Nobu to sit down. There was a table off of the bar and they had ordered a bottle of 1986 Dom Pérignon. We were like wow! We were talking with the bartender and he was telling us about this table wanting to send this '86 Dom Pérignon back. One thing people don't know is that if it's bubbly it's good. If it's got bubbles you are heading in the right direction. You could see this thing was fizzy and bubbly and beautiful. We saw the bartender talking to the couple and saw them shaking their heads. So we bargained down to $100.00 to take this bottle off their hands. It is one of the oldest bottles of champagne I've ever had. Old champagne, it's good stuff…some of the best stuff around.
Tim: Oh, yes.
Liz: I'll tell you an interesting champagne thing. I have to give full disclosure. Rene Becker who owns High Rise Bakery who is a very worldly person and has great taste told me during a conversation about champagne and old champagne and nobody knows what they are talking about that apparently if you eat Cheetos you should be drinking champagne. It's a match made in heaven! Cheetos and champagne it's something try.
Tim: Thank you so much.
Liz: Thank you.
For pictures, location, menu, and wine list check out The Blue Room online: The Blue Room